2015
My husband Steve and I have owned and run Bliss Ice Cream Parlour in Cowes for almost 10 years, and over winter I decided to use the off-season to teach myself the art of fudge-making! We figured it would compliment ice cream well and give us something to sell on days when the weather wasn't so great (which, let's face it, is fairly often!) We also realised there wasn't a well-known fudge brand on the island, which seemed quite a gap in the market considering how popular fudge usually is in seaside towns.
*Update – we sold Bliss Ice Cream Parlour in 2020.
2016
So 3 cold winter months were spent practising a plethora of different recipes in my home kitchen – many a batch of fudge was made – fudge that didn't set, fudge that spat at me, fudge that turned to concrete.. but eventually things started improving and I started to get the "feel" of it (and an accurate sugar thermometer!) and tweaked my recipe until finally I felt I had a fudge that I loved and that was delicious enough to sell to the public!
We began selling it in our shop, then the option of attending a weekend Christmas Market at The Garlic Farm was offered to me and I figure why not – our shop was closed and I had nothing better to do – little did I know that I would sell my entire stock on the first day! Suffice to say there was a very late night of fudge making that night along with a 5am cutting and wrapping session!
2017
From there on I decided to attend any local fetes, food markets, fairs etc and even had a stall on The Parade in Cowes Week (which involved 4 solid weeks of fudge making in advance!) Steve set us up a website to enable us to accept orders online, and more recently we decided to attend a vegan festival with a newly developed line of vegan fudge which proved such a success that we have since attended our biggest events to date – Vegan Life Live in London and Manchester and VegFest in Brighton – all a lot of work but very successful and we now find a large chunk of our trade is for vegan fudge!
2018
After a very busy Christmas with an almost unmanageable influx of online orders, we felt it was the right time to take the next step and we opened a Slab shop in January (next door to our ice cream parlour!) where all our fudge is made (still by hand, on the stove-top). We now have a regular income from online trade, attend major events regularly and have several wholesale businesses we supply to both on the island and on the mainland. And of course we're so proud to have our first premises the public can visit to top up on supplies and watch fudge being made!
2019
What a year 2019 was for Slab! We started the year with our 2 month old baby Coen in tow (assisting with Veganuary orders), took on 3 new Slab staff, attended some fantastic events including Vegan Life Live and the Isle of Wight Garlic Festival and expanded our wholesale stockists to include, amongst others, the Vegan Kind Supermarket. We also finally perfected our vegan recipe (after 2 years of tweaking, we are finally ready to shout about it) and made some changes to all our recipes, including switching to all natural flavourings. We also made the switch to plant-based packaging (no more plastic bags!) All in all it's been by far Slab's busiest and most productive year so far!

2020
Well we didn't see 2020 coming did we? There's no doubt that it's been a different year for everyone. What did it mean for Slab?
We were set for our usual busy year of events but it became evident in March when our first major event, Vegan Life Live, was cancelled at Alexandra Palace that things were not going to be as usual! From there on it was clear that any semblance of normal life was not going to return for some time, with the grip of Covid-19 playing a role in all of our lives.
However! For Slab, this meant our online business was to thrive – so many of you were stuck at home either going stir-crazy or unable to frequent your usual cafes and bakeries for treats – and orders came in to us thick and fast. Orders were sent around the country to you and your loved ones, gift notes wishing well those people you couldn't see and hug. We felt over-the-moon to be able to continue trading and provide at least a little sweetness into your lives at such a tricky time.
The end of the first lockdown also brought on a big change for us – we sold on our sister business, Bliss Ice Cream Parlour! So from here on out, it's fudge full throttle!!
Summer brought with it some vague return to what we remembered as normality – at least for us here on the Isle of Wight – a tier 1 area. We were able to re-open our shop and trade as usual, albeit without any summer events. In November we took on an industrial unit – a second premises for packing and processing. Covid-19 came back full force over the Christmas period meaning most people were again refined to their homes – suffice to say we had an exceptionally busy Christmas period – 5am starts were not uncommon in order to keep up, but we aren't complaining!
We begin 2021 with hope for a better year for everyone. The 2nd full lockdown has enabled speedy progress on our industrial unit which is now well underway, with floors laid, walls built and kitchen equipment ready to be plumbed in and installed – we hope it will be in full action by the spring. In other news we have been working on some exciting new packaging designs which we just cannot wait to show you… watch this space!
2020 was a challenging year for most people – we feel very lucky to have been able to continue making fudge and trading throughout.
2021
2021 was a busy one! After literally bursting at the seams in our shop over Christmas 2020, we decided it was time to expand into a 2nd premises – so we took on an industrial unit. We used the January lockdown to set up the space ready for all our wholesale and online parcels to be packed and collected from – along with a full cooking and wrapping station.
We hired a graphic designer to completely redesign our packaging – we wanted a recyclable sleeve that would wrap around the Slab without completely covering the fudge – and we also had funky labels designed for each fudge flavour. We also had retail cases designed to go on shop shelves – our wholesale side of the business was our fastest growing thread of the business, having doubled since 2020.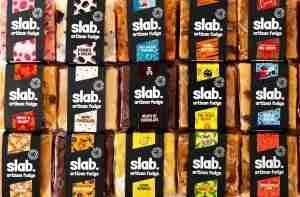 We wrapped up the year with a bumper Christmas (making this our busiest year to date), and Rachel giving birth to our daughter Lori on the 22nd December – literally minutes after the last parcels were packed for our Christmas deadline. Excellent timing Lori!
2022
We welcomed in the new year with our new baby girl, Lori, who was born on her due date just before Christmas. Whilst Rachel "enjoyed" her maternity leave, the rest of the Slab team kept things running at the Cowes shop and unit.
We finally exchanged contracts on a house move and in July we jumped the river to our lovely new home in East Cowes. Leaving West Cowes hadn't been our plan (moving house isn't as easy as we had expected!) but we settled in immediately. We decided to give notice on our West Cowes shop – we had been trading on Bath Road for 15 years and decided it was time for a change and less running around between premises.
Then.. within weeks of our house move, we noticed a commercial let become available on the main road into East Cowes. We viewed it and realised it was perfect – we could do all our cooking here, there was enough room to pack all our orders AND there was a nice retail space for customers too. It was very visible to all the cars coming into East Cowes – and right by the bus stop for the massively popular tourist attraction, Osborne House. Plus it was just up the road from our new house! We went for it and by October we were in our new premises.
We spent the last couple of months of 2022 fitting out our new premises (which we have affectionately titled "the depot") and it's safe to say things now feel very streamlined. We have started attending the monthly East Cowes Community Market, and look forward to attending many more markets and events this season. We love our new depot and can't wait to see what the 2023 season brings!