Description
The Classics 6 Slab Vegan Display Box – 6 beautiful Slabs of freshly made vegan fudge in our most exquisite and refined selection of flavours! All cosily boxed up in a black Slab box ready to be devoured. A fabulous gift for those with excellent taste!
The Classic
Sea-Salted Caramel
Death by Chocolate
Maple & Walnut
Rum & Raisin
White Chocolate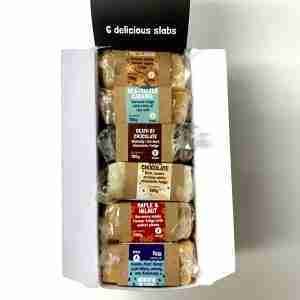 Here at Slab Artisan Fudge, we make only the highest quality and most mouth-wateringly delicious fudge.
All our vegan fudge is made by hand on the stove top in small batches. Using creamed coconut for the fudgiest texture. The flavourings we use are all natural and plant based for absolute authenticity. And our methods and recipes are top secret. For a fudge that is truly special, unique and unctuous when you sink your teeth in!
Small batch 👊 artisan fudge.
Dairy & vegan 🌱 fudge ranges available to buy.
All our Slabs are packaged in 💯% biodegradable bags with recyclable sleeves 🌍
Grab a Slab!
Shop fresh fudge from an independent producer. Buy Slab Artisan Fudge Online!